KIVANÇ ZAIMLER
Chairman
Kıvanç Zaimler studied at Istanbul Technical University and Berlin Technical University and held various managerial positions in the private sector in different fields.
Zaimler joined Enerjisa in 2008 and held several roles in natural gas trading and as General Manager of distribution, and retail companies before serving as the CEO of Enerjisa. In 2018, Zaimler carried out the IPO of Enerjisa, which was one of the largest IPOs in that period. Zaimler, as Sabancı Holding Energy Group President since July 2018, he is the Chairman of the Board of Directors at Enerjisa Enerji, and the Vice Chairman of the Board of Directors at Enerjisa Üretim. In addition to his duties in the energy business, Zaimler has been the Chairman of SabancıDx since 2020. Additionally, in Sabancı Community, Zaimler serves as Chairman of Sabancı Renewables, which was established in the USA and Dx Technology Services and Investment BV (DxBV), the digital focused global technology company of Sabancı Holding, established recently in the Netherlands.
Taking active roles in Non-Governmental Organizations, Zaimler serves as Vice President at World Energy Council-Türkiye, Chairman at Association of Electricity Distribution System Operators (ELDER), Member of the Board of Directors at Sabancı University Istanbul International Energy and Climate Center (IICEC), Advisory Council Member at SHURA and Member of US-Turkey Business Council.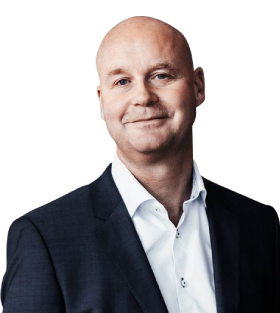 JOHAN MAGNUS MOERNSTAM
Vice-Chairman
Johan Moernstam received his diploma in business administration and business law in Lund and Växjö, before completing his Executive MBA education at the University of Lund, Sweden. He started his professional career in 1988 as business controller at Fylgia Invest.
In 1995, he joined the energy company Sydgas, which later was acquired by the E.ON Group. After holding several managerial positions, Mr. Moernstam was appointed Vice president of Commodity Portfolio Optimization at E.ON, in 2007. From 2010 until 2014, he served as the director of various positions in Germany and Sweden. Between 2014-2019, Mr. Moernstam held the role as CEO of E.ON Energidistribution AB, one of Sweden's largest power and gas distribution companies.
Since 2020, Mr. Moernstam serves as the Senior Vice President of Energy Networks-Europe, responsible within the E.ON Group, for power and gas distribution in Sweden, Poland, Slovakia, Czech, Hungary, Romania, Croatia and Turkey.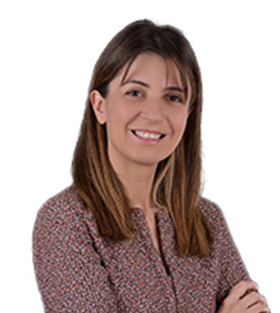 YEŞİM ÖZLALE ÖNEN
Member
Yeşim Özlale Önen who graduated from İzmir Amerikan Lisesi in 1993, received a Bachelors' degree at Psychology from Middle East Technical University in 1997 and Clinical Psychology Master's degree in 1999.
She started her professional career as a Consultant at Davranış Bilimleri Enstitüsü in 1999 and continued her career as a Senior Consultant at Deloitte between 2003-2005. Yeşim Özlale Önen acted as a Project Manager at DDI Turkey between 2005-2007.
Yeşim Özlale Önen joined Sabancı Holding in 2007 as Group Human Resources Manager and worked in Sabancı Group until 2011. In 2011, she was appointed as the Senior Client Partner of the Korn Ferry. As of 15 March 2023, Önen has been appointed as Human Capital & Sustainability Group President at Sabancı Holding and Board of Directors' Member for Enerjisa Enerji.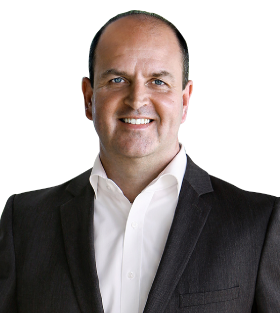 THORSTEN LOTT
Member
Thorsten Lott received his degree in business administration at the Georg-August-University in Göttingen. He joined the VEBA-group in 1999 as a business controller for the sales and trading activities in Hanover.
After the merger of VEBA and VIAG, he moved to the newly founded E.ON Energie AG in Munich where he held different financial leadership positions in the areas of Risk-Management, Controlling and Derivative Accounting. In 2007, Thorsten Lott joined E.ON Kernkraft in order to facilitate the development of international nuclear new built projects. After holding different financial leadership positions within the nuclear area, he took over the controlling responsibility for nuclear activities within the E.ON group (Germany and Sweden) within the newly founded E.ON Generation. In addition, he accounted for the controlling activities of all hydro generation activities of the E.ON group (Sweden, Germany, Italy and Spain).
In 2015, he took over the head of finance position for all nuclear activities. In 2017, Thorsten Lott was appointed as a member of the board (CFO) of PreussenElektra which is responsible for the management of all remaining nuclear activities within the E.ON group.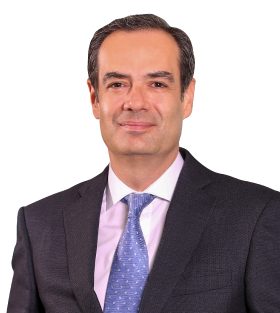 NUSRET ORHUN KÖSTEM
Member
Orhun Köstem received his bachelor's degree from Middle East Technical University Mechanical Engineering Department in 1991 and his MBA degreed at the same university. He also has a master's degree in Finance and Corporate Law from Bilgi University.
Mr. Köstem joined Anadolu Group in 1994 and held various management positions until 2008. In 2008, he was appointed as the CFO of Efes Breweries International and in 2009 continued his career as Corporate Finance Coordinator of Anadolu Group. Mr. Orhun Köstem pursued his career in Coca-Cola İçecek where he worked from 2010 to 2016 as the CFO and from 2017 to 2018 as the Regional Director responsible for Middle East and Pakistan. Mr. Köstem served as the CFO of Anadolu Efes between 2019 and 2021. Mr. Köstem is the Group CFO of Sabancı Holding since July 1, 2021. He is also the Chairman of Carrefoursa, Vice Chairman of Sabancı İklim Teknolojileri, Supervisory Board Member of Cimsa Sabanci Cement BV and Member of the Board of Directors of Akbank, Kordsa, Enerjisa Enerji and Enerjisa Üretim.
Mr. Köstem is one of the three authors of the book "A Window to Capital Markets: The A to Z of Public Offering and Investor Relations" published in 2009. In 2016, 2019, 2020 and 2021 he was listed among "Turkey's Most Influential 50 CFOs", according to a research conducted by BMI Business School in collaboration with DataExpert. He was awarded as Turkey's Best CFO in the Investor Relations Awards organized by Thomson Reuters Extel in 2011 and 2013, while he was also honored with the "Best CFOs" by Sell Side analysts in Consumer Sector in Emerging EMEA by Institutional Investor Magazine and Institutional Investor Research Group in 2020. He was ranked as Best CFO in Industrials Sector in the Emerging EMEA Region by Instutional Investor in 2022 and he was named among C-Suite Series – Fortune CFO 2022 list. He is also a member of CFA Society and CFO Network of the World Business Council for Sustainable Development (WBCSD).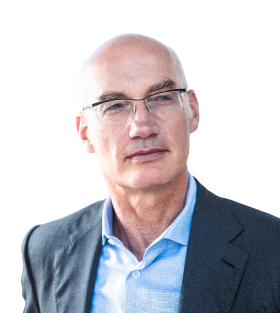 DR. GUNTRAM WÜRZBERG
Member
Dr. Guntram Würzberg studied Law at University of Göttingen. He holds a PhD in Law and took part in several Executive Programs of Harvard Business School and MIT, Boston.
Guntram started his career with PreussenElektra AG, Hannover in 1995 as in-house counsel for Energy, Antitrust and Corporate Law. In his various positions, he worked on several major M&A transactions and reorganizations of the European Energy industry in the recent decades. He joined the Legal Department of E.ON's Holding Company in 2001 after having worked on the merger VEBA/VIAG. Guntram held several positions as General Counsel in different E.ON group companies thereafter - amongst others in the real estate business with Viterra AG and in the gas trading & supply business with E.ON Ruhrgas AG. In 2003, he worked in the US as in-house counsel for Regulatory Affairs at LG&E, Louisville, KY. In July 2009, Guntram changed from his legal role and took over as HR Director for E.ON Ruhrgas AG, which he continued for the successor companies E.ON Energy Trading SE and E.ON Global Commodities SE until December 2013.
Effective January 2014 he became responsible as Head of E.ON's Corporate Audit function. Dr Guntram Würzberg who served as General Counsel and Chief Compliance Officer with E.ON between January 2017 and July 2022, is CEO of E.ON Hungary since July 2022.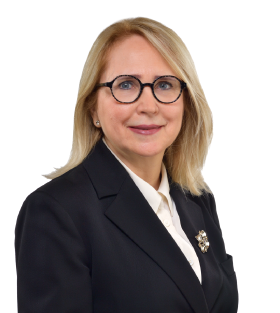 FATMA DILEK YARDIM
Independent Board Member
After graduating from the Department of Business Administration at Boğaziçi University, Dilek Yardım started with a long-standing banking career in 1988.
Between 1990 and 1999, she worked as VP of Project Finance and later Corporate Finance divisions at Bankers Trust. From 1999–2001, she served as Assistant General Manager of Global Banking department at Deutsche Bank. From 2001 until 2016, she served as CEO and Board Member at Deutsche Bank, Credit Agricole CIB and Standard Chartered Bank, consecutively. Since 2018 onwards she is working as Independent Director and chair/member of various Board Committees at EnerjiSa Enerji, Çimsa Çimento, Afyon Çimento, Altınyunus and Pınar Et. Yardim is serving as branch manager of Germany based Real Estate Fund, Commerzreal Investment, and also continues to work as management consultant at her own company.
She has an MBA degree from the joint program of Manchester Business School and University of Bangor and certificates from Harvard Executive Education, furthermore she has played active roles at TUSIAD, YASED and DEIK along with her professional career.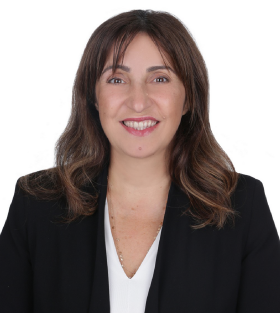 KAMURAN UÇAR
Independent Board Member
Uçar started her career in TUBITAK Defence Industry Research and Development after having graduated from Middle East Technical University with a master's degree in Chemical Engineering in 1996.
Then starting her career at Unilever in 1999, Kamuran Uçar was appointed in chronological as the Brand Product Manager of Omo, the Category Vice President in the Home Cleaning and Laundry Categories responsible for the regions of Africa, Middle East and Turkey and she led the category teams in South Africa, Turkey and Dubai. During this period, she took part in the Unilever Global Home Care Category Board team at the same time. Uçar continued her duty as Unilever Turkey, Russia, Middle East, North Africa, Central Asia and Caucasus Assistant and Unilever Turkey Board Member in the Home and Personal Care Category between 2016 and 2018. During this period, she took part in Global Executive Projects in the Sustainability and Diversity Development group of the company. In 2019, she was appointed as the General Manager of Unilever Iran, Caucasus and Central Asia Region, and continued her duty as a Board Member of Unilever Turkey, Iran, Caucasus, Central Asia.
As of January 2022, Kamuran Uçar left her position at Unilever in order to start her own business in the field of technology and currently she is taking role as the Founder & CEO of her own company. At the same time, she is a member of the Advisory Board of the Advertisers Association and a Dream Partner of Young Guru, which is a non-governmental organization and works as an Investor-Mentor in various start-ups. Kamuran Uçar is married and has 2 children.